MY BONNIE LIES OVER THE OCEAN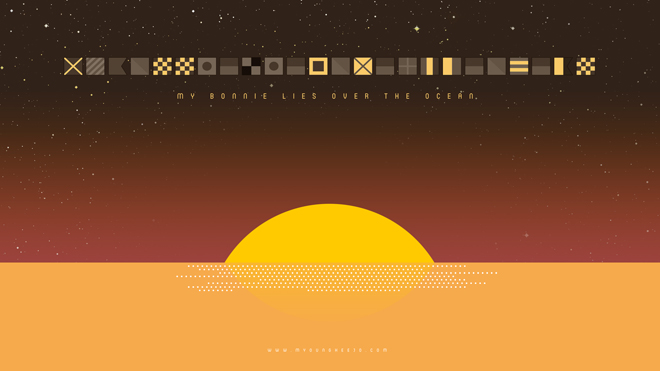 2560×1440 / 1920×1200 / 1680×1050 / 1440×900 / 1280×1024 / 1280×800 / 1024×1024 (iPad) / 1024×768 / 640×960 (iPhone)
Hot Summer hits London and people are slowly escaping the city. I would love to go somewhere but maybe not this year, instead I am enjoying myself longing my own holiday in September and doing some design in my world. And I've been thinking how I could share my design world with you in this summer and here I designed two desktop wallpapers for you to share. Maybe we are in different places and doing different things but I hope you enjoy your summer time in your way and my wallpapers help to give some idea of your own summer.
I think seafaring trends hit the design world, classic marine look of blue and white striped pattern in fashion, interior items made of knots and ropes, and graphically, a classic maritime signals, nautical flags are being used as pattern or decoration for fashion item or interior object. And I got hooked by this interesting graphics of these flags, recently 'Little White Lies', a film magazine, invited people to free movie night of 'From Up on Poppy Hill', a Japanese animation film, scripted by Hayao Miyazaki, one of my favourite artist. The film tells the story of a high school girl living in a boarding house and waiting for her father who was a naval man left her for the Korean War. Each morning the girl raises nautical flags in the yard on the hill, in the faint hope that her father might see them. This film inspired me a lot and I tried to represent this in my own way with a song 'My bonnie lies over the ocean'.
I hope you enjoy your summer and sending out your own message to the world!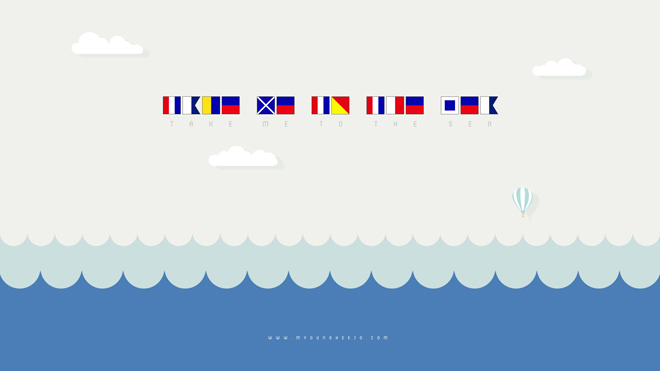 2560×1440 / 1920×1200 / 1680×1050 / 1440×900 / 1280×1024 / 1280×800 / 1024×1024 (iPad) / 1024×768 / 640×960 (iPhone)