FRENCH CONNECTION AW13 CAMPAIGN
Working as freelance retoucher at French Connection, I could have a chance to over look how the office work in general and catch the style. It's very subjective view but I can say French Connection challenges edgy fashion advertising campaigns. They are looking for new talents and very sensitive on trend but trying to keep their own innate sense of humour. And for their new Autumn/Winter 2013 collection, they tapped the talents of iconic fashion photographer Rankin and launched 'From Sketch to Store', a simple, quirky but cool campaign.
This campaign shows models pictured naked with the clothing designs sketched and overlaid, and then shown in the actual clothes. Jo Bird, nom de plume belongs to Caroline Swanne, sketched illustration on naked model shot. This campaign was written by Vicky Lawton and art directed by Callum Crease for client Jennifer Roebuck, multichannel marketing director of French Connection.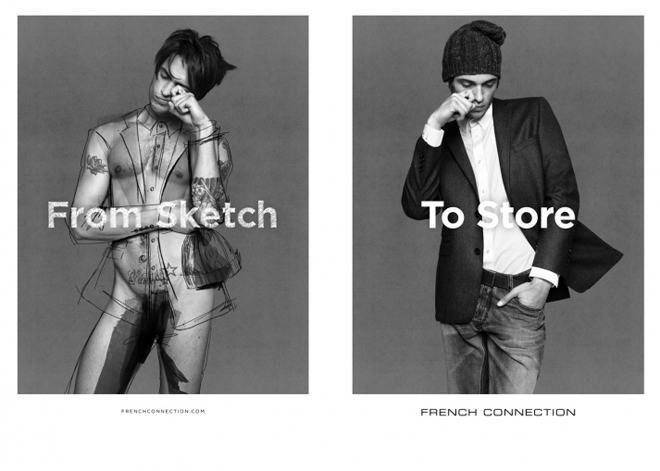 Jennifer Roebuck said: "The sketch to store campaign really brings out the fearless nature of the brand and our design credibility but with a twist. When you look back at the iconic FCUK campaigns you can also see the fearless attitude and that is part of the brand and our design philosophy. I would say it is different than what we have produced with other creative partners over the past two to three years, but is in keeping with our overall brand DNA. " from Retail Week
Agency: The Full Service